New Patients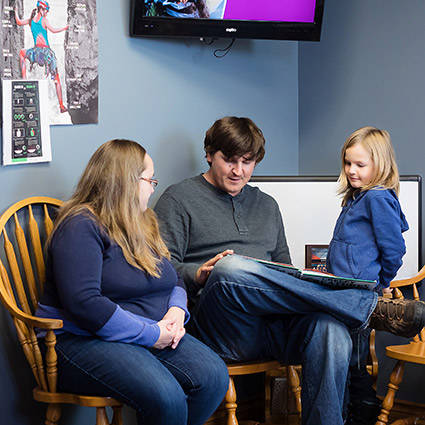 Family Chiropractic welcomes you to a warm, homey atmosphere that is conducive to health and natural healing. Not only is our practice comfortable, but it is compatible with people of all ages and walks of life. We are the proud home of patients, both young and old, including families of all sizes.
Our practice is here to listen to your concerns, evaluate your health, and help you achieve lasting wellness. We have the knowledge and expertise to provide you and your loved ones with the individualized care you deserve. Join our patient community in one simple appointment!
New Patients Welcome
Your initial visit with us will be dedicated to getting to know you and learning more about your well-being. If you have not already, we will begin by asking you to complete a series of intake forms. These documents are downloadable and can be completed ahead of time. You will then be shown to an examination room where you will meet with Dr. Angela or Dr. Ashley to discuss your health history, current condition, and overall health goals.
Following your one-on-one consultation, we will proceed with a non-invasive physical examination. This comprehensive exam will tell us all we need to know about your body. These details include the origin of your pain and discomfort. Once we have all the necessary information, we will review our findings. We will then design a suggested plan of care that is right for you. Your intake appointment will likely conclude with your first customized chiropractic adjustment.
Staff is always friendly and helpful. As seniors, Chiropractic care received here has helped both my wife and I remain active and discomfort free.

Absolutely amazing! Started feeling less pain from my first session!

I have been seeing chiropractors for about 40 years and and I must say Dr. Ashley's treatments tops them all!

The ladies in reception were very friendly and welcoming. Dr Ashley was also easy to talk to and I am feeling confident that she will help me with my issue.

My family and I are very grateful to have found Dr. Angela! Her knowledge and experience with chiropractics is amazing. My son had his first visit with her recently and said 'Wow, I really feel like she was listening to me. I feel confident that she will actually help with my discomfort!' I feel the same way! The administrative staff are extremely helpful and always very welcoming. Thank you!!

Everyone is very friendly. Ashley makes you feel comfortable. She is great at what she does and very knowledgeable.

Thank you so much for bringing me on board and helping me with my back pain today. You are truly a God-send.

I was so happy to be treated with the utmost kindness on my first visit; like I had already been a patient for months. I was in pain and booked/seen very quickly and was impressed with the thoroughness and explanation

I'm glad to be moving again! It's hard on the emotions when unable to do remedial tasks.

Went to my previous chiropractor for 35 years in Niagara and recently moved to Haldiman. Found Dr. Van de Walle on the internet and had the best adjustment I've ever had. Looking forward to the future!

The Dr was very friendly! I felt so much better after leaving.

I'm really enjoying my treatment so far. I feel like there has been a lot of improvement with my aches and pains. I'm confident that my physical goals will be met!

I have been with Dr. Ange for 20 years. She is the reason I continue with chiropractic . She is like family! She has helped me through a lot of pain!!

Very professional and came across as truly wanting to help improve my physical situation.

After my first visit my lower back was 200 percent better. Made me ask myself why I waited three weeks before making an appointment.
We Are Here for You
Please note that not all intake appointments end with an adjustment. More complex cases may require off-site X-rays or further collaboration with additional health care practitioners. If this is the case, we will walk you through your next steps.
We want your introduction to Family Chiropractic to be one to remember. Following your initial appointment, you will meet with one of our caring staff members to go over costs of care. You will discuss insurance coverage and private pay options at this time. Be sure to communicate all questions and concerns while you are with us.
What are you waiting for? Schedule your appointment today!
CONTACT US »

New Patients | (519) 428-5636