Pediatric Chiropractic at Family Chiropractic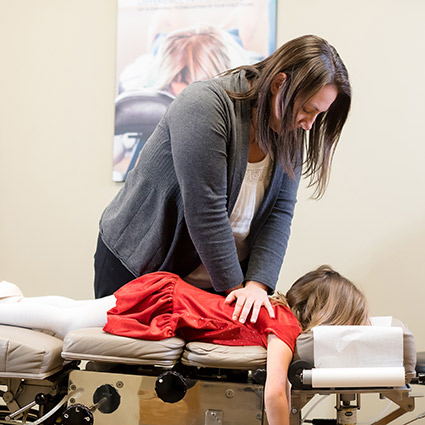 We welcome children of all ages to greater health through chiropractic care. Our practice is here to encourage infants and older children alike to grow and develop as healthy as possible. With Family Chiropractic, your family is sure to feel good and enjoy the chiropractic process.
Dr. Angela and her team are trained and skilled in working with children, both young and old. Whether they have recently fallen or you simply want to get them checked—you have come to the right place. Our family-friendly and compassionate staff cannot wait to get to know you and your loved ones.
Learn more about our approach to pediatric care.
Why Chiropractic Care?
Chiropractic care is not only for adults, but it is also for kids. Like adults, children stay busy. The constant crawling, walking, and running can eventually negatively affect their little spines. Repetitive behavior is not the only factor that can cause a misalignment in children. Tumbles, falls, and other day-to-day accidents also play a role in spinal health.
Because kids are spongey beings, it is the job of the chiropractor to check your child for any misalignments and carefully adjust them. By performing gentle adjustments, we are able to restore children's bodies back to proper positioning with the hope of relieving them of any discomfort. Our main mission is to set them up for years of healthy growth and development.
You can be sure that while under our care, your child will be treated as if they were one of our own. We will not force your child to do anything they do not feel comfortable with, and each adjustment will be as safe and gentle as can be. Typically, pediatric adjustments require no more than the amount of pressure you would put on a ripe tomato.
Dr. Angela and Dr. Ashley are trained in a variety of adjustment techniques that can be tailored to the needs of children. Of these techniques, Activator Method® is most commonly preferred. This method of care relies on a small handheld tool called the Activator Adjusting Instrument to gently adjust the spine. With it, chiropractic adjustments can be performed without the typical cracking or popping sounds.
Activator Method is not the only method of care that can be used for kids. Our practice also uses a gentle version of the Diversified Technique to care for tiny spines. This manual adjustment technique is hands-on and easily tailored to each child's needs and level of comfort. Please do not hesitate to contact us for more information.
We pride ourselves in knowing how to relate to children and keep them comfortable. Dr. Angela and Dr. Ashley will always modify care in the best interest of your child. If they do not want to lie down for their chiropractic adjustment, we will gladly let them sit up or remain in your lap while we work. Children who have seen their parents get adjusted tend to feel more at ease during their first visit with us. No matter what, you can be sure that your child is in the best hands at Family Chiropractic.
Depending on patient age, chiropractic care takes many forms. As your comfort is important to us, we are dedicated to providing in-depth explanations of upcoming care to both you and your child prior to providing care. Be sure to communicate any questions or concerns you might have during your visit. We are happy to help.
Pediatric patients come to us for a variety of reasons. The most common complaints that are brought to our attention are
Neck pain
Back pain
Poor sleep
Digestive problems
Weak immune systems
Are you unsure whether or not chiropractic care might be able to help your child? Contact us to learn more.
The sooner you get your child into the chiropractor, the better. In infants, even uncomplicated births can create a lot of trauma to small spines. In school-aged children, rambunctious play and athletic involvement can lend themselves to spinal misalignment. Though these problems may seem small, they can manifest into long-term issues. It is never too early to get your child checked.
You would not wait until your child has a mouth full of cavities before getting them into the dentist. The same goes for chiropractic care. If you get your child checked from a young age, they are less likely to experience the lasting effects of misalignment as adults.
We Are Happy to Join Your Health Care Team
Dr. Angela and Dr. Ashley want to be a part of your family's health care team. We offer judgment-free, supportive care and endless knowledge to promote the health of your growing family. Set your children up for a better tomorrow by getting them in to see us today!
Contact our practice to make an appointment for Pediatric Chiropractic Simcoe.
CONTACT US »

Pediatric Chiropractor Simcoe, Norfolk ON | (519) 428-5636